You hesitate to book but still want to get an idea of rate for a stay? This article is made to help you.
Indeed, via your Marvilla Parks customer profile

, you will be able to keep a price simulation in the form of a quote the time to make a decision, or even in order to compare several destinations, dates of stay or types of mobile home.
To do so, nothing could be simpler:
First of all, you must select the determining elements for your holidays: Camping, Dates, Type of Mobile home.


Once you have selected these items, you will be redirected to your shopping cartwhere you will find the requested stay.


You will then be able to specify your request by selecting in case of need various options (Sheets, baby kit, end of stay cleaning, WIFI card...).


The Cancellation Insurance will then be offered, you just have to choose whether or not you want to take it to adapt the price of the stay.


Then, if you have a Partner Code or a Loyalty Discount, you will be able to add it in the category "Add a code" by selecting "Yes" to the request "I have a code or discount".
In case of sponsorship, you will also have the opportunity to communicate your code via a step adjacent to those of the previous codes.


You will then have to tick the box stating "I certify that I have read the proposed cancellation insurance and the General Rental Conditions."


Then to finalize your quote, simply select the proposal below the "Book" button noted as Save cart as quote.
The latter will then be registered under a file number and will be placed in the "My next holidays" tab of your Marvilla Parks customer profile

.
In case of error, you will be able to delete your cart by clicking on the icon as shown below

: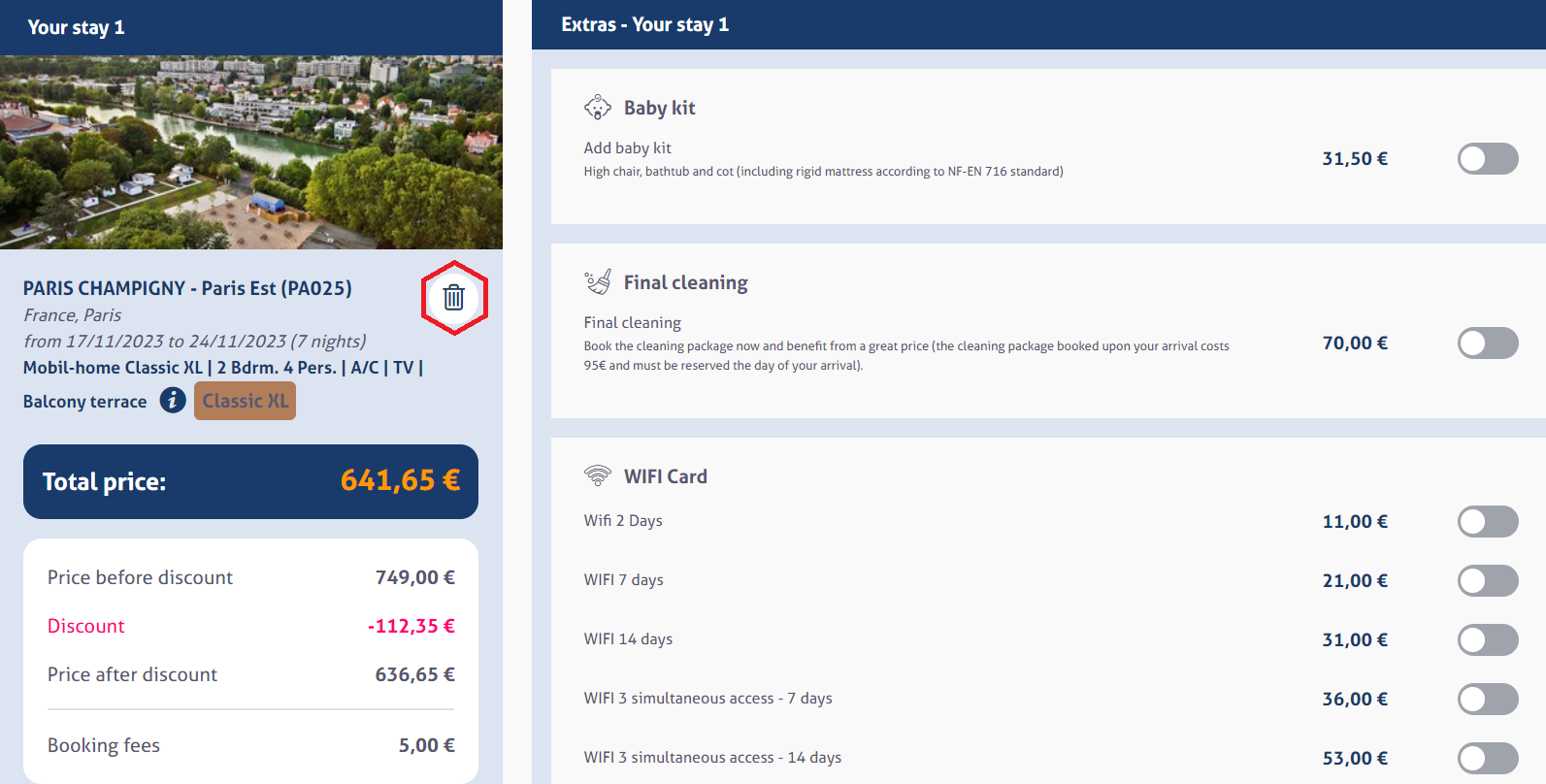 As a reminder:
The given rate is subject to availability, so this type of document has no contractual value.
The price is given as an indication: it is likely to change at any time.
The mobile home is in no way blocked because the document is only for information purposes.
To guarantee this stay, do not hesitate to book directly with our advisors by contacting us by phone at +33 4 84 39 08 75.